Used Work Trucks For Sale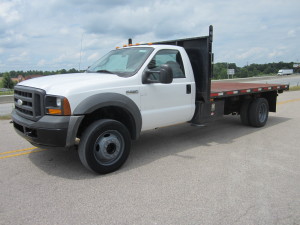 If you have your own business or work in an industry where you are responsible for purchasing your own truck, it's probably best to shop for used work trucks for sale. While a pre-owned vehicle can be easier on your wallet, it is not as simple as buying a used car. The amount of available work trucks are smaller than the amount of used cars. You must be more specific when looking for this type of vehicle. Take a look at these points before beginning your search for a work truck for sale to help provide a smooth buying process.
Don't only look for cheap work trucks
Just like a used car, a used work truck can save you a lot of money. The initial depreciation has already occurred, which dramatically brings the cost down. Nevertheless, the price of the commercial vehicle should not be the determining factor.
Mileage matters when searching for used work trucks for sale
These work vehicles are built for everyday use and to be driven all over the country. This means that the engines should be constructed to manage high mileage. Many diesel engines can run much longer than gas engines. After that, most engines need to be rebuilt. If you are looking at a truck that is nearing the one million mile mark, be sure that you receive a good deal to compensate for a repair bill that may happen pretty soon. Although you cannot really guarantee that you won't ever need repairs, it's beneficial to search for a work truck that has been inspected and re-conditioned. This will possibly help you to avoid repairs.
Determine the best choice for you
There are many different manufacturers to consider when you're seeking a used work truck for sale. It doesn't matter if you are looking for a used Ford or pre-owned GMC, knowing the brand you prefer can assist you when you are in the first stages of buying. Remember, if your truck is in the shop for repairs, you don't make money.
Where to go to buy
While used work truck dealerships aren't on every corner like regular car dealerships, it is possible to find a reputable dealer. Dealerships, like Hammer Truck Sales, have a larger number of trucks to choose from. This means you can be a bit more selective when deciding on what to purchase. Hammer Truck Sales ensures that all work trucks are in superb working condition, something you can't get from a private seller. Our sales professionals are available to answer any questions you have when you are deciding on the right vehicle for you.
When you run your own business, your work truck is very important. You will spend the majority of your work day in your truck. When you are looking for work trucks for sale, consider purchasing a used one from Hammer Truck Sales. Even if we don't have a certain vehicle you want, give us a call at 1-800-665-6532 and we can find it for you.
You can follow any responses to this entry through the RSS 2.0 feed.