ShortClip HammerTruckSales Lot Demo
Hammer Truck Sales began in a small location on Main Street in Salisbury and, thanks to the leadership of Nat Hammer and Eddie Snuggs and their passion for the industry and focus on quality, the company has grown to a 10.13-acre location on I-85 at exit 74.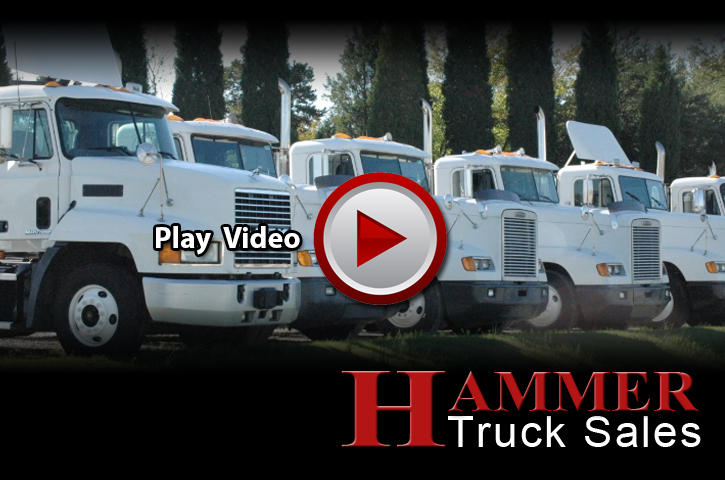 If you are looking for a quality used commercial trucks for sale at an excellent price, you have found the right place. Hammer Truck Sales (HTS) has 10.37 acres of quality used diesel vehicles for sale and a 10,813 square foot four-bay full service facility. All Hammer-vehicles have been completely reconditioned in the service center by a staff of certified diesel mechanics. The majority of Hammer used commercial trucks come from companies which have well-maintained fleets. Even so, all vehicles are thoroughly inspected and returned to like-new condition, before they are ever put on the lot. HTS mechanics have a 103 point checklist that is mandatory on every vehicle. That means with a Hammer Reconditioned truck, you not only have the confidence of incredible savings, you also have the assurance that your vehicle is in excellent mechanical condition.
Commercial Vehicles

Owners Nat Hammer and Eddie Snuggs have been offering quality used diesel vehicles for sale in the trucking industry for over 25 years. Together they have over 50 years of experience. Both men are North Carolina natives and attended Lenoir-Rhyne College together in the mid 1980s.

Hammer Truck Sales carries a wide variety of used commercial vehicles for sale including all the best manufacturers which you can find at these links: Peterbilts Kenworths, Internationals, GMCs, Used Ford trucks, Volvos, Macks, Freightliners, Sterlings, White Trucks and Columbia Trucks. Hammer Truck Sales regularly carries semis, all types of work trucks, service, lube, cube vans, box trucks, dumps, cranes and boom trucks. If you are looking for trailers, Hammer Truck Sales often has an assortment of trailers and specialty equipment. If you don't see what you need on this site, give a call because it's likely it can be found for you at a price that will save you thousands. 1-800-665-6532.
___________________________________________________________________
Quality Used Trucks
After years of supplying the industry with quality used trucks, Hammer Truck Sales has regular established sources for quality trucks from the best manufacturers, International Trucks, Peterbilt Trucks, Mack Trucks, Kenworths,  Freightliner Trucks, Sterling Trucks, Chevy Trucks, Volvo Trucks, GMC Trucks, and White Trucks. All of our used semi trucks have been reconditioned in our onsite truck service center as have our used service trucks and work trucks for sale.
Hammer Truck Sales has an excellent selection of used trucks for sale,  including: used Dump Trucks, Cube Vans, Rollback Trucks, Box Trucks, Knucklebooms, Flatbeds, used Lube Trucks, Mechanic Trucks,  Crane Trucks, Bucket Trucks and Diesel Pick-up Trucks. If you are looking for a particular type of used service truck, used work truck or semi truck, that you don't see here, call us at 1-800-665-6532 and we can probably locate one for you.