Ford Work Trucks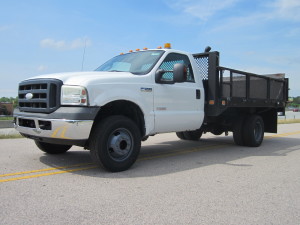 More than one vehicle, the Ford Superduty is an entire line of work trucks. These trucks vary in size and style from the F-20 all the way up to the massive F-450. No matter which one you select, all of these big boys are designed to handle the tough jobs and will make you proud you chose a Ford Superduty as your work partner.
The Ford Superduty F-250 and F-350 have an assortment of power sources. A 5. 4 liter 3V SOHC putting out 300 horses, a 6. 8 liter V-10 that's carries a whopping 362 horses and finally the diesel 6. 0 liter produces 350 horses with a whopping 600 pound-foot of torque.
The middle brother is the Ford superduty F-350. This mid-sized work truck offers the same power options as the F-250, and provides an impressive pull capability while still providing a comfortable ride. Not only will this mid size work truck pull it's one weight but it will do it proudly.
Matching the power in these work trucks, the Ford Superduty trucks provide the perfect braking ability with standard ABS brakes. These brakes promise to be able to provide the right amount of stopping power to match the hard working engines. Not only do these trucks work hard but they offer unquestionable safety.
Huge power drives, great brakes, and smooth transmissions are not all the Ford Superduty trucks have going for them. The ride is comfortable no matter which package you decide, and while the massive F-450 certainly does not ride like a luxury automobile it will provide the smoothest ride in a vehicle its size.
Pulling power is important in a work truck but equally important is the ability to stop. The Ford Superduty trucks all come with 4 wheel ABS standard brakes and all time traction control to help keep these work horses on the road under any condition.
The Ford Superduty trucks offer a comfortable ride with a great array of interior options. You will be able to get your work done in comfort, and keep track of your tolls with Fords new tool tracking system. Also available is a WI-FI radio system.
All of these elements combine to create a line of work trucks that are as a whole greater that their parts, strong engines, reliable brakes, smooth transmissions and smart interiors make the Ford Superduty trucks a true force to be reckoned with.
Looking for a Ford work truck? Give Hammer Truck Sales a call. If we don't have it, we will find it for you.
You can follow any responses to this entry through the RSS 2.0 feed.