Truck Paper Analysis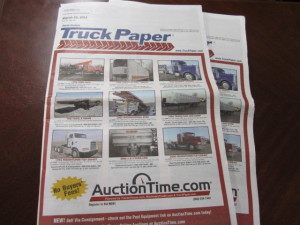 TruckPaper (as it is sometimes written) is reportedly the highest circulation newspaper in the US dedicated to buying and selling heavy duty vehicles, and trailers. The Truck Paper is published in seven regions of the country and is a free circulation publication.
Truckpaper.com the website for the TruckPaper includes listing for trucks for sale by the thousands. Here is our comprehensive review of the site.
Truck Paper (truckpaper.com) website has a search toolbar placed prominently, in its landing page. This site provides options for one to choose the type of vehicle from the listed top truck for sale ads presented by manufacturers, or to do a quick search by typing the make and model of a truck or trailer. There is information on upcoming auctions, as well on the truckpaper website.
Categories that classify the listings into manufacturer, parts, dealers, etc., will ensure that one does not spend more time to find a listing or to post a listing on truckpaper website. But, if one is in search of used trucks for sale or trailers, they may have to choose advanced search option. Every type of trucks are listed for sale on Truck Paper website and all one has to do is, key in the right words to search. Truck Paper alerts new users about internet scams doing the rounds. A client is requested to call them to clear details on payments done, or to communicate sensitive financial data, when posting an ad for Peterbilt dump truck or Kenworth on truckpaper. The data provided for every listing is not very detailed, but a VIN can be used to do further research regarding a used vehicle.
A firm, which is on the lookout for salvaged trucks or trailers, will benefit by using the truckpaper website. The site is always up and loads faster. Further, the site is well connected and it is easy for a person to navigate Truck Paper website. One of the many benefits of registering with Truck Paper is the weekly update report. But if one is into commercial vehicle selling business, they may want to maintain a registered account, to benefit from posting and tracking ads on truckpaper on a regular basis. There are rules and regulations to be followed when posting ads on this website. One has to use specified fonts, specified file formats for pictures and other files, post pictures with specified resolution and color of fonts for posting. PDF files that are being submitted for ads, when one is using the Media Kit available on truckpaper website should be compatible with Photoshop 5. These restrictions are in place, supposedly to avoid any problems for those visiting Truck Paper.
The Advertising in the Paper
An ad on Truck Paper with pictures for trailers or heavy-duty commercial vehicles for sale will feature an option to zoom. The ad rates are not published on website, but needs one to call sales professionals at truckpaper and verify. Also, every new ad will be tested for compatibility issues, before they are approved and printed on both digital and hardcopy weekly publication. There is also support for one to message a seller, but all this is possible only if one registers with truckpaper. For every sale or ad posting, one will have to contact them via telephone, which is deemed to be a safer way of avoiding online fraud. To sum up, it is a website that has information about truck dealers, both used and new. It is not a surprise, since the Truck Paper is the most read, weekly publication in the truck sales industry.